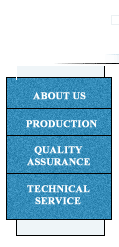 In response to the increased and varied usage of our
products we are able to advise our customers and
prospective buyers on the type of products that
are most suitable for their utilization.
Our technical and Quality Department is able to
provide a Certificate of Analysis with every
delivery to ensure that the products conform to
the quality required.
In addition to the testing methods Material
Safety Data Sheets (MSDS) can be provided upon request.
Contact Information
Company:
Address:
Chemical Industries (Malaya) Sdn. Bhd.3757-T
Lot 6 & 20, Persiaran Tasek
Kawasan Perindustrian Tasek
31400, Ipoh, Perak Darul Ridzuan
Malaysia.
Tel :
Fax:
E-mail:
Contact Person:


605-291-3128(Hunting Line)
605-291-5297
ethanol@hexza.com.my
Ms. Lim See Cheng (Deputy General Manager)
---
Aspire Consulting
Copyright 2000 Chemical Industries (Malaya) Sdn. Bhd. All rights reserved.